Audit your marketing technology stack with the 6Cs to refine its capabilities and prove its return on investment
Do you know the stackies? They're an informal contest arranged by Scott Brinker, creator of the marketing technology vendor landscape where different companies visualise their marketing stacks in different ways. Here are the latest martech stack entries. They're presented in vastly, different ways from this superbly visual example…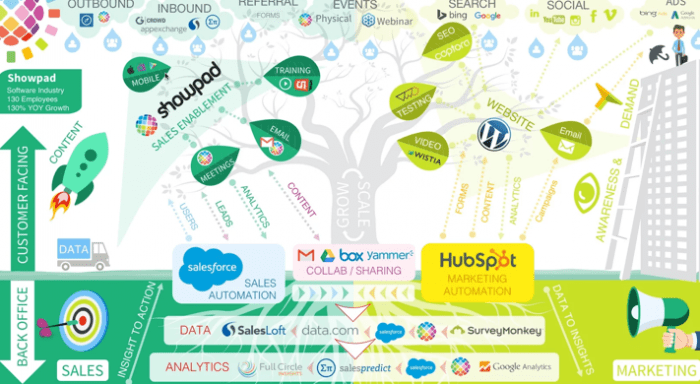 to this more structured approach of the 5Cs of Martech – which looks like the inspiration for the new 6Cs of Martech featured at the end of this article.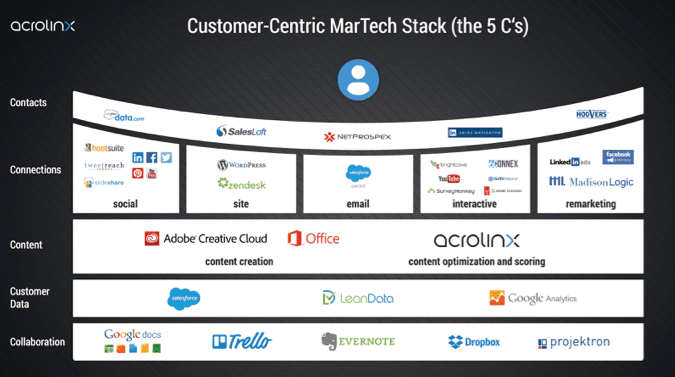 You can audit your marketing stack against any of these 'stackie' entries. The structure of some of the examples like the second one prompted us to think whether there was a simple, practical way of visualising or auditing a marketing technology stack that would work across companies and was simpler than our marketing tools wheel. Many of the techniques presented are powerful in that that present all the main martech options in a single slide. However, we thought that many of these stacks are industry or company size specific or don't cover the full range of tools.
So, as a simpler alternative to the 30 categories of our Digital Marketing Tools wheel, we have developed our own 'Martech Matrix' audit tool by analysing the range of technologies to develop this practical table-based martech audit which is quick to apply across different types of business.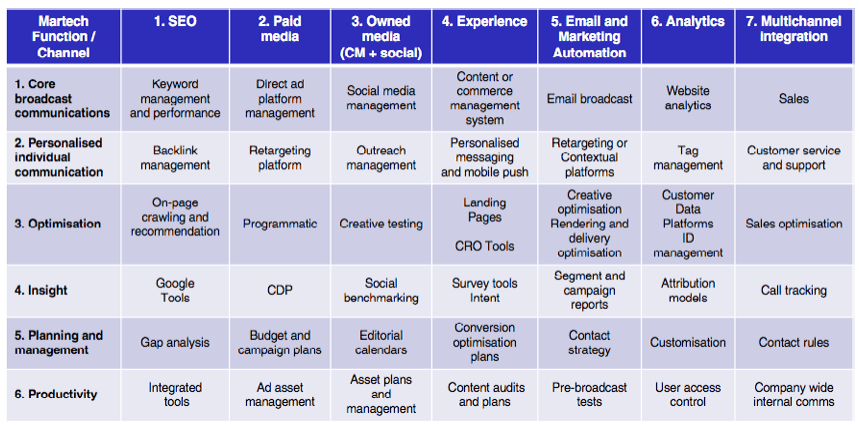 This goes alongside some of our other audit tools like the Content Marketing Matrix and Content Distribution Matrix.
You can see that this martech audit (above) reviews six different types of services shown on the left across seven main communications channels (shown across the top) which need to be managed as part of today's integrated marketing strategy.
Here is the audit applied to Smart Insights. You can see it has the advantage of showing at a glance where you are currently using a service against where you have a gap – where it is a description rather than a logo.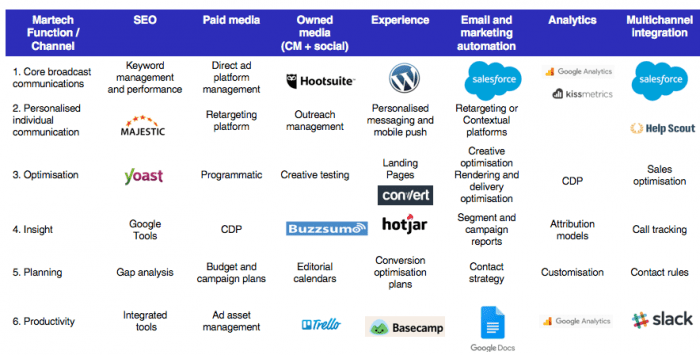 The six different types of martech service are:
 1. Core broadcast communications (marketing cloud services).
We start with these since these are the martech platforms that every business needs. Of these seven core tools for each of the communications channels, the five main types of platform for different channels are a content management system for serving website pages (with commerce management for e-commerce businesses) which forms the website experience; website (and mobile) analytics; an email marketing or marketing automation system for sending out newsletters and promotional emails to subscribers and a social media management system for posting social media updates and interacting with social media contacts and an analytics platforms. Marketing cloud services like those from Adobe, Oracle, Marketo and HubSpot typically cover all of these five. Finally, there are the all important sales and customer service systems for company people to directly interact with customers by phone, email or social media. We also recommend that businesses have a tool for managing the target keywords for search engine optimisation (SEO) and paid media, although these are less commonly in place than the other five and businesses may work directly with Google tools for SEO or ad platforms like Google AdWords or the Facebook advertising platform.
 2. Personalised individual communications.
We have defined a separate layer for targeted communications with individual prospects, customers or partners since separate technology from different vendors are often used for this purpose. For example, although some content and commerce management tools include personalisation capabilities, it's often better to use a specialist solutions. This personalised layer of martech services is often added after the first layer is in place, so is for more mature businesses.
3. Optimisation tools.
The optimisation tools of this martech layer can also be thought of as optional since they're for more advanced testing and structured tests. For example, email packages will often include personalisation and AB testing features, but don't always include tools for detailed tests.
 4. Insight.
The insight level isn't directly involved with customer communications. Instead, it offers more advanced analysis tools. Again, these aren't essential, since some measurement will be available from the core tools or analytics. Instead, advanced users will use these tools to analyse additional insight not available in general analytics package.
5. Planning.
To manage these six marketing channels individually and create an overall marketing plan additional planning tools. These are the types of tools provided by Smart Insights and other analysts which enable you to structure strategies.
6. Productivity.
These collaboration services are for internal communications. Some services in this category can be used for internal comms across all channels, but separate channels are available also.
Reviewing your Martech against competitors
You can review the Martech your business and competitors are using with services that monitor and categorise the Javascript tags that are used on websites to exchange data with SaaS services. If you type in your website URL to services like BuiltWith.com; SimilarTech.com or ObservePoint.com you can see the number of Martech tags and the category of marketing application, e.g. Analytics, Advertising, CRM, etc. If you look at the score for larger digital businesses like Expedia or John Lewis you will see they can have more than 50 different tags.
The 6Cs categories of Martech
As chance would have it as we were reviewing this post, we spotted a new summary from Scott Brinker which he describes as The 6Cs for organising the chaos of marketing technology . It's cool since it provides an easy to remember mnemonic and covers most of the bases well:
If you compare Scott's 6Cs against our 6 categories you will see some similarities, but with different labels since our labels are longer and more functional – about what you're looking to achieve, so we separate out messaging through email and on-site personalisation for example whereas these are covered in the intersection between Customers and Content. Collaboration is similar to our productivity and management, and our Optimisation is similar to core.
Our matrix has the advantage that it's a practical tool you can fill in the key categories of martech that most businesses will need.
Whichever framework(s) you use for your martech assessment, the important thing is that you are auditing your martech to identify the gaps, so that your business can Compete on Martech and that they are simple enough to communicate the need to audit and resource your marketing technology.