Chart of the Day: CMO survey of investment in alternative strategies for growth
A key part of marketing strategy development is to review the strategic options for growing a business. Here we're sharing a breakdown of actual investment by companies using this classic marketing model that has stood the test of time since it originally dates from the 1960s…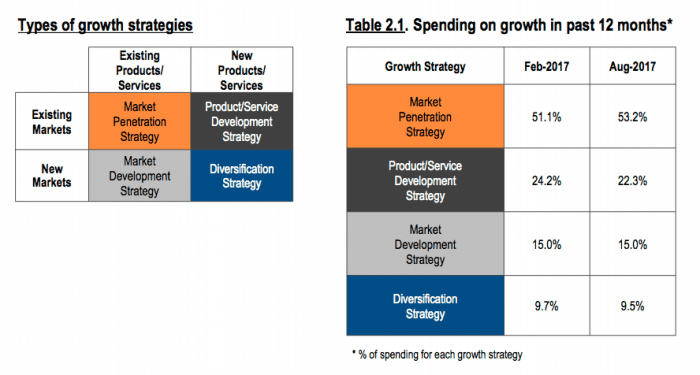 You may recognize Ansoff's growth model, which is a matrix that can be used to identify alternative growth strategies by looking at present and potential products in current and future markets. The four growth strategies are market penetration, market development, product development, and diversification.
It's no surprise that investment in existing markets is the main focus,  followed by new product development. But it's surprising to me that market development and diversification are as high as they are. This breakdown showing the balance between investments is a useful prompt for those involved in shaping business and marketing strategy to explore the options outside of market penetration.
I feature the Ansoff framework in my Digital Marketing Strategy and Implementation book where I use this visual to show how digital channels can be used to support it.