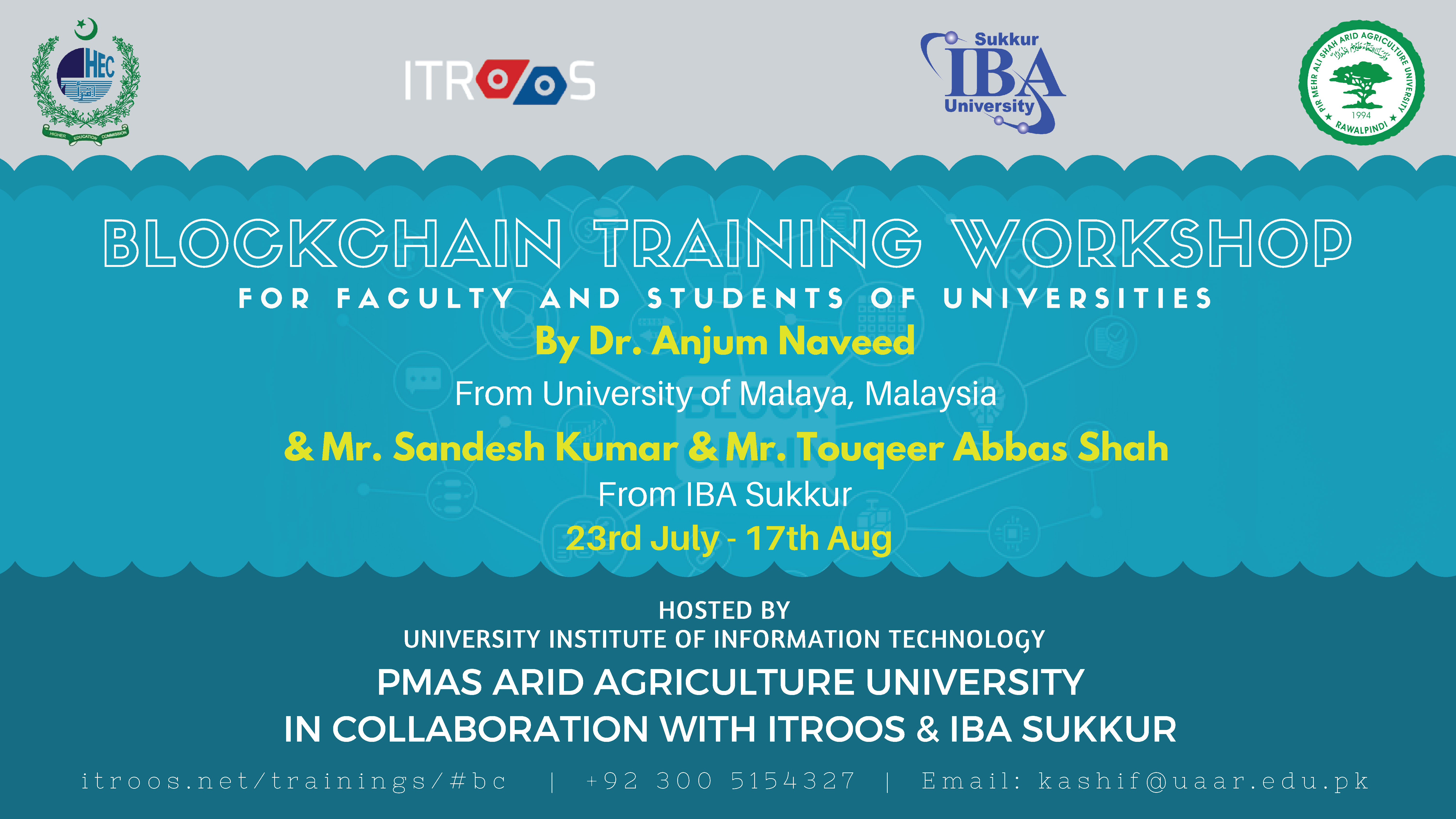 Blockchain is an emerging technology and has significant impact on financial market as well as many other domains. In Pakistan we have serious shortage of Blockchain development resources. To train the resources in Pakistan, we are inviting Dr. Anjum Naveed as an expert trainer in this area from University of Malaya, Malaysia. The workshop is for 04 weeks starting from 23rd July, 2018. There will be 03 lectures per week (Mon, Tue, Wed) at University Institute of IT, PMAS-Arid Agriculture University Rawalpindi. Faculty members and students of universities all over the Pakistan can apply. We have only 25 seats and applicants will be shortlisted based on their interest and expertise and will be communicated for confirmation of their registration. We are offering this course free of cost so all selected participants will arrange their accommodation and transport at their own. Although we will provide PCs for labs, however personal laptops of participants are recommended having linux operating system. Registration deadline is 16th July, 2018.
The objective of this course is to introduce faculty/students with the blockchain technology. Blockchain technology, its significance and its applications will be discussed. Hyperledger Fabric platform for blockchain network and application development shall be explored. Hands- on training will be provided for building distributed blockchain ledger, blockchain network and blockchain client application. Migrating the network and application from development scenario to commercially usable deployment shall also be discussed.
At the end of this course:
1. Participants will understand blockchain technology and its use cases
2. Participants will know about different development environments for blockchain.
3. Participants will be able to develop and deploy blockchain networks and applications using hyper ledger fabric.
Basic understanding of hashing.
Participants should be familiar with at least one programming language.
Knowledge of Go Language and Node.js will be helpful but not required.
Fill and submit the Registration form, Go to your email, take a print of this registration form, get signatures of HoD/Chairman/Director/Dean/VC, send it at the following address:
Dr. Kashif Sattar
Coordinator Block Chain Workshop
University Institute of IT,
PMAS-Arid Agriculture University, Rawalpindi.
Course Outline (Tentative)
Lecture 1: Mon, 23 July 10:00am-1:00pm
Introduction to Blockchain, Blockchain applications.
Lecture 2: Tue, 24 July 10:00am-1:00pm
Simple Blockchain Ledger creation. Blockchain platforms.
LAB 1: Wed, 25 July*
10:00am-1:00pm
Building your first blockchain platform.
Lecture 3: Mon, 30 July 10:00am-1:00pm
Blockchain Security: Consensus, POW and POS.
Lecture 4: Tue, 31 July 10:00am-1:00pm
Introduction to Hyperledger components and terminology.
LAB 2: Wed, 01 Aug 10:00am-1:00pm
Using Hyperledger Fabric: Network and Application dynamics.
Lecture 5: Mon, 6 Aug 10:00am-1:00pm
Thinking the Blockchain way.
Lecture 6: Tue, 7 Aug 10:00am-1:00pm
Storage application and Network Planning.
LAB 3: Wed, 8 Aug 10:00am-1:00pm
Your first blockchain project.
LAB 4: Mon, 13 Aug 10:00am-1:00pm
Network creation.
LAB 5: Tue, 14 Aug 10:00am-1:00pm*
Storage creation and application programming 1
LAB 6: Wed, 15 Aug 10:00am-1:00pm
Application programming 2 and frontend development.
Test of participants, Course feedback, shield for Best Participant, Certificates for participants having 80% attendance, Group Photo with Course teacher and chief guest, Refreshments
– 15 mins tea break at 11:30am each day as per above mentioned schedule
*Will be adjusted on some other day if election leave
*Will be adjusted on some other day due to leave